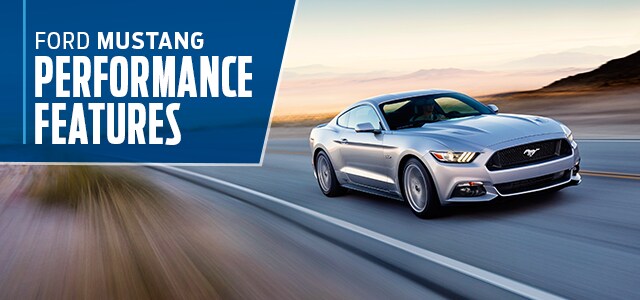 Mustang Performance in Barron, Wisconsin
The Mustang is all about performance. In addition to optimum power and speed,
this model
also has an excellent ratio of performance and efficiency. You get incredible acceleration and top speed without sacrificing gas mileage. Thanks to a range of innovative powertrains, the
new Ford Mustang
is making driving better than ever before.
Mustang V6 - 3.7-liter V6
The 2017 Mustang comes with a 3.7-liter Ti-VCT V6 engine. This power plant generates the following numbers:
300 horsepower @ 6500 RPM
280 lb-ft of torque @ 4000 RPM
The V6 has a sequential multiport electronic fuel injection system, as well as a dual bright slashed cut exhaust. The
EPA ratings
for this model are 18/27/21 (city/hwy/combined) mpg when paired with a six-speed manual transmission.
Mustang EcoBoost - 2.3-liter Four Cylinder
EcoBoost was introduced to optimize power and efficiency by using innovative turbocharging technologies. This engine option is a 2.3-liter GTDI inline four-cylinder engine. This EcoBoost engine gets:
310 horsepower @5500 RPM
320 lb-ft of torque @ 3000 RPM
It also has a direct injection fuel system, and it reaches EPA ratings of up to 21/30/24 (city/hwy/combined) mpg when paired with the manual transmission.
Mustang GT - 5.0-liter V8
This massive engine option is a 5.0-liter Ti-VCT V8 engine that gets:
435 horsepower @ 6500 RPM
400 lb-ft of torque @ 4250 RPM
That's pretty impressive for a
sports car
. This power plant also comes with a sequential multi-port injection system and dual bright exhaust with polished tips. When paired with a manual transmission, the V8 gets up to 15/25/18 (city/hwy/combined) mpg. 
Shelby GT350 - 5.2-liter V8
Shelby is known for its performance, and the GT350 is no exception to that rule. The 5.2-liter Flat Plane Crank V8 that's under the hood of the Shelby Mustang gets the following
performance specs
:
526 horsepower @ 7,500 RPM
429 lb-ft of torque @ 4750 RPM
If you want to see what kind of power the

Ford

Mustang

puts out in person, feel free to stop by our dealership! We're proud to serve customers from Rice Lake, Eau Claire, and Spooner!

Visit Swant Graber Ford to view a great selection of performance-ready Mustangs!