If You're Driving a Ford F-150, Escape, Edge, Fusion or Explorer in Barron, WI, You're Going to Want to Fit it with Ford Parts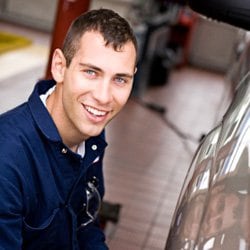 Your vehicle was engineered with each part complimenting one another and working together to create a smooth, enjoyable driving experience every time you take its wheel. Here at Swant Graber Ford, we take pride in delivering quality, well-made Ford models to drivers throughout Barron and serving the Rice Lake, Chippewa Falls, Cumberland and Menomonie, wI. We know our vehicles are of the highest quality, but we also know that throughout the course of your vehicle's lifetime you may encounter the need for repair or part replacement.
We're happy to offer all our customers and new-coming customers access to the highest quality vehicle parts on the market. Our parts center includes original equipment manufacturer parts, meaning they come straight come the factory and will work with your vehicle flawlessly because they're the parts they were built with. If and when the time comes for your vehicle to need new windshield wipers, a muffler, tires, battery, an engine part, or any other part you can count on our parts center to provide it. Even if we don't have the part you need, we can order it and it will arrive in a timely manner so you can repair your vehicle properly and quickly. If you're handy and able to install the part yourself you can walk out of our dealership and get right to work. If you need a little extra hand with the automotive work you'll be pleased to know you can rely on our onsite service and repair center to get the job done and get the job done right. Our team of technicians are expertly and extensively trained and they'll efficiently install any part of your car, truck, crossover, SUV or commercial vehicle that needs replacing. You can count on not only the best quality parts around when you come to our dealership but also the best possible service and repair work in the greater Barron area.
You invested your hard-earned dollars into your vehicle, so why not be sure that it receives the proper tender love and care it deserves? Make sure your vehicle operates as smoothly as possible with OEM parts from Swant Graber Ford. Feel free to drop by and see us here in Barron, WI, or call our parts center to speak with a team member at 888-870-3533. We look forward to seeing or hearing from you soon.